Palm Sunday and the traditions that come with it.
Although the whole period of lent is important for the Orthodox people, the Holy Week is what makes Greek Easter very special. Festivities are not until Easter Sunday but preparations begin a week before.
Palm Sunday is always celebrated a week before Easter Sunday. It represents the entrance of Jesus Christ in Jerusalem a week before Easter. According to religion, he was welcomed with palm leaves while he was entering the city seated on a donkey.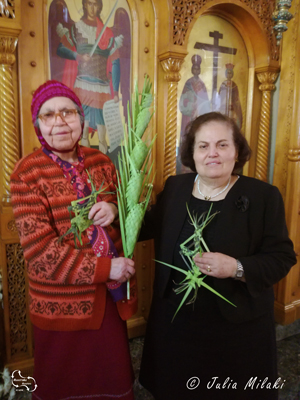 Palm leaf crosses handed out on palm sunday.
In memory of this event, people receive a piece of palm leaf from the church on this day. It is shaped in a cross and it is blessed from the priests during Sunday service. Making these crosses from palm leaves is not an easy job and that's why more and more people tend to learn how to do it and help. People of all kinds, men, women, children but mostly women of older age dedicate a lot of their time to create the crosses. There are simple crosses or more complicated ones, bigger or smaller.
Of course there are some ladies who have turned this cross creation into an art and they can make combination of colours or even different shapes. The donkey shaped palm leaf is one of the rarest ones.
Mrs. Katerina is getting blessed by the priest for her creations.
Mrs. Katerina spends around 50 days and almost all of her time to create these pieces of art. She is a professional in making double crosses with 2 colours, small ones as in pocket size and the donkeys. She makes 700 crosses and 500 donkeys. On Palm Sunday she walks around the church and gives away the pocket size crosses to everyone. She also hands out the donkeys herself. She spends her day with her friends that create their own shapes and they give them to church. Being able to create such a thing is a blessing on its own; imagine if you have the blessing of the priests as well.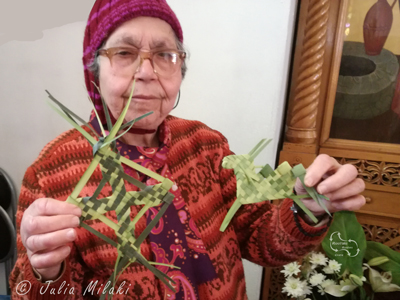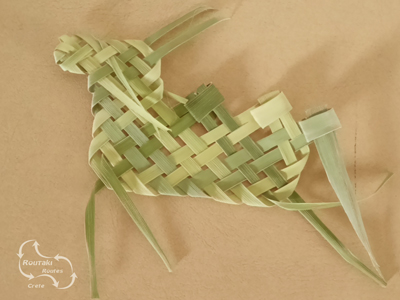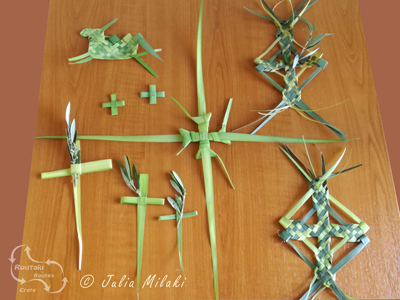 Palm Sunday is a special day regarding food consumption. People have been fasting for a period of almost 40 days and the Holy Week demands a lot of strength. So, it is allowed by church to eat fish today. This will give you strength and power to go through the Holy Week because fasting is stricter. It is also a nice chance for families to spend time together since school holiday has started and bonding is important during this week.
Other routes or items that may interest you: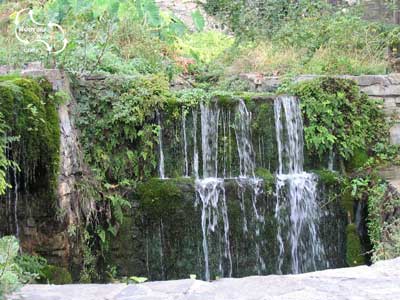 The wells and waterfalls of Argyroupoli which you can have a look at in Routaki route 32.