Install the Routaki APP (beta) for your private tour guide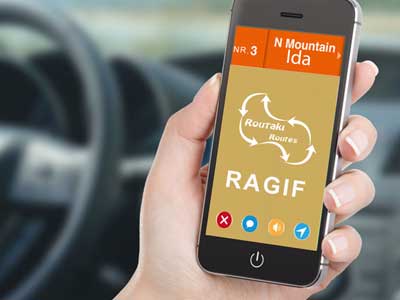 Route: Kato Gouves – Knossos (Eng – beta)
With this route you have the opportunity to visit the CretAquarium. After that you drive through a diversity of Cretan villlages; Anopoli, Stamni and Myrtia. In the latter you can visit the Nikos Kazantzakis museum. You will drive through the vineyards around Peza, you can visit the wine museum of the union because of this and take a pause at the picturesque square of the beautiful town of Archanes, which leaves you with Venetian impressions.
Continuing through the olives fields, you will end up at the entrance of the excavations of Knossos.
Route: Kato Gouves – Agios Nicolaos (Eng beta)
This route brings you through the former mountain villages of Pano Hersonissos, Piscopiano and Koutouloufari, the villages situated above the known seaside resort Hersonissos. Subsequently you will drive through Malia, Sissi and Milatos. After Milatos, you can descend the eponymous cave. Just before the town of Neapoli you have the opportunity to receive a free tour in an olive factory. You can have a coffee break in this 'new city' as well or just admire the greek orthodox church.
Finally, ending up in Agios Nicolaos, you can have lunch or take the boat to visit Spinalonga.
ROUTAKI'S AUDIO
GUIDE INFO FILES
What makes Routaki so special? With every route comes a set of audio files with guide information (RAGIF's). During your drive, these Audio Guide Info Files inform you about items you see or visit, traditions and habits of the locals. You will also be informed about your final destination of the chosen route.
It's as if your guide or hostess is sitting next to you on the passenger seat!!
ROUTAKI APP
Audio Guide Info Files
The above mentioned audio files, the Routaki Audio Guide Info Files (RAGIF's), will start automatically during your drive. Your own smartphone will tell you the history of that little church you just passed or the way the locals pick their olives. For this, you have downloaded the audio files which fit to the chosen route. And you have installed the Routaki APP on your smartphone (both done in a Wifi zone, e.g. in your hotel). This free to install APP makes connection for you between the GPS coordinates you've just encountered and your media player.
Enjoy & Remember & Share your experience.
of course we appreciate it if you share your experience with your family and friends. Routaki is extensively active on social media. Stay in touch with us, write a comment or review our services. We thank you in advance.