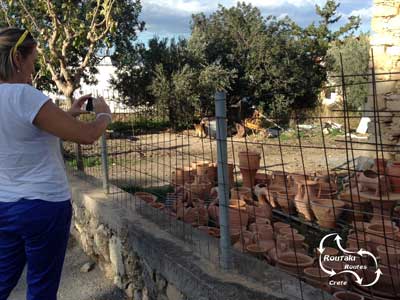 Margarites is a village on the slopes of the mountain chain Psiloreitis. It's especially well known for the local production of ceramics. Already in the Minoan period the clay of the nearby riverbanks was used by the potters. Nowadays, Margarites attracts a lot of visitors who enjoy both the beauty of the village itself and the variety of ceramics that are offered in the numerous shops.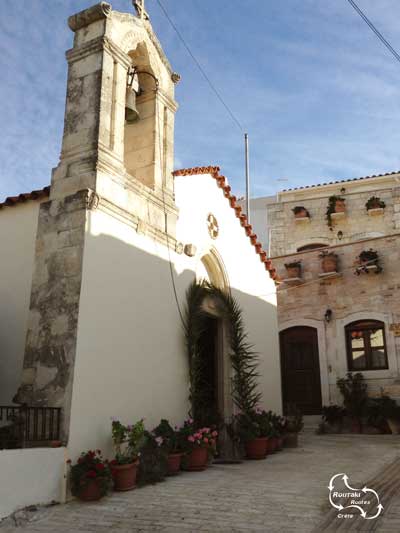 Margarites dates back to the Venetian Period.
The village as we can see it today dates back to the Venetian Period (1204-1645). Many villages on Crete that are still inhabited can be traced back to this period of Cretan history. In the style of the houses, enclosed courtyards and stone arches you can clearly recognize Venetian architecture. There are several neighbourhoods within the village and, following the Cretan tradition, each neighbourhood features its own church dedicated to its own patron saint. Some of the churches are open, sometimes you can ask for the key of the locked ones in the nearest shop.
Many of the houses are uninhabited at the time and they easily travel you back into times long gone by. It is nice to get lost on purpose in the small streets and squares. You can find a local bakery, a supermarket and the possibility to sit down and enjoy a meal or refreshment under the shade of dense mulberry trees.
The pottery tradition is still very much alive in Margarites. Some potters use the local clay and follow the designs and decorations that date back to the Minoan Period. Others produce more modern items with bright colours, some items to be practically used in the household, others just for decoration.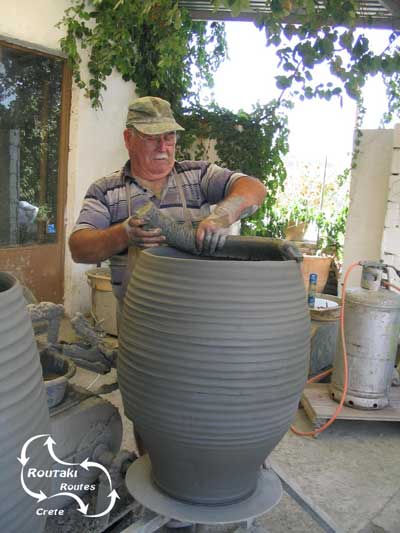 The monastery of Saint Gideon on the north east corner of Margarites.
While exploring Margarites, do not forget to visit the monastery of Saint Gideon, also called the Karakalou monastery . It's situated on the outskirts of the village, on the north-eastern side ( GPS coordinates: 35°20'25.52″N –  24°41'20.79″O). A steep little road leads you up to the entrance. The monastery is rather small which is typical for Crete.
Most monasteries are not to be compared to the large abbeys of the Northwest Europe. However, it is very well looked after and will remind you of an oasis with all its different species of plants, some of which are quite exotic. The monks also keep some small birds that offer a pleasant chirping sound in the background. You can climb up to the roof terrace and enjoy a wonderful view over the entire village from there.
We would like to remind you that visitors in monasteries ought to be properly dressed and are kindly requested to respect the fact that in some churches it is forbidden to take pictures or video recordings.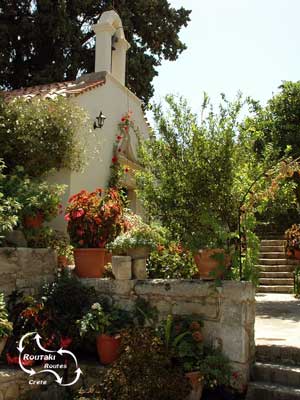 Other routes or articles that may interest you: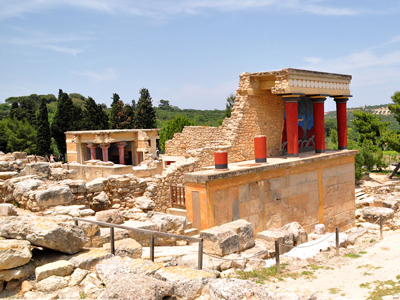 Photograph Knossos, the most important excavation of Crete in route 59.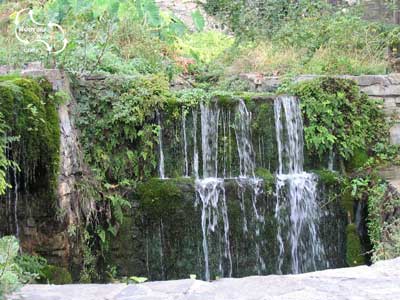 Explore the waterfalls of Argiroupoli while driving Routaki route 32.