The most important music instrument on Crete is the lyre. The three dimensional bow and string instrument with its pear shaped torso is held in front of the body, placed on the knee and it is played with bow. The torso of the lyre is built out of one piece of selected white or black cedar wood.
The second classical instrument in the Cretan folklore music is the lute with 8 strings. The smaller version is called the mandolin. Other instruments are the guitar and the flute. At traditional Cretan parties these instruments are used to support the 'mandinades'. Mandinades are improvised poems with an often satirical, social or erotic content.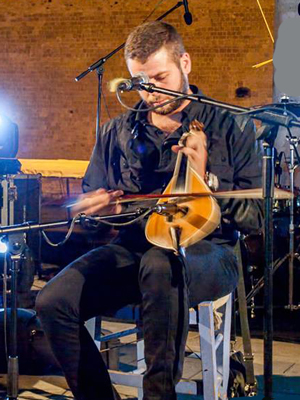 ***
You can listen to this AUDIO GUIDE INFO FILE
while driving Routaki route…
Route 58.0

Kato Gouves –

– Milatos Cave –

Agios Nicolaos
Five different Cretan dances.
There are five different dances that are accompanied by the lute and the lyre. First there is the Pentozalis. This is a vibrant, lively dance with mostly forceful jumps. Men and women dance in a circle. The Siganos is the start of the Pentozalis. This is a slow dance accompanied by the sound of the lyre. The Haniotis is also a slower pace dance where posture and technique are revealed. The Kastrinos is a real manly dance, because of the forceful jumps. The Sousta, on the other hand, is a dance for couples and has an erotic touch that is clearly visible.
Last but not least there is the well-known Sirtaki. Men and women are dancing together in a circle. You hold each other by the shoulder and kick the feet up in the air sideways.

Other routes or items that may interest you: