Routaki – the ultimate routeplanner for Crete.
Almost there.
With what? you may ask. With getting the workflow ready and organized, so I can easily multiply my five routes into 25.
This last month, despite the high temperatures and the low energy level, I succeeded to start a Google Adwords campaign. Well I can tell you, that is a whole new business on its own.
Main thing I learned was the use of the (key)word 'routeplanner'. Back in the days of Routaki 1.0 this word didn't even exist, but today it's the most 'googled' search term concerning routes, road trips and car hire. So I already spent some time on publishing an article about Routaki routes being the perfect route planner for Crete. Because that's what we are. What we stand for is like a much better written out route description of Google Maps or ANWB routeplanner.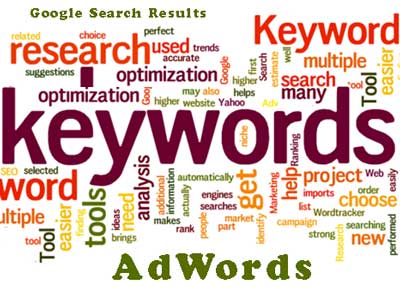 #routeplanner  #vakantie kreta  #bezienswaardigheden kreta
  #chersonissos #route plannen
Routaki routes in the routeplanner of Google My Maps.
As we made the decision to give out the routes for free, I realized it would be a good fact to publish these routes also on Google My Maps. In this pretty new feature of our Big Brother you yourself can work out your own road-trips and destinations and use them during your holiday. But guess what!?
We already did that for you!!! There are already four routes wide open and available.
Of course I mentioned in all of the balloons links to the webshop, so you can purchase the RAGiF's for this extra detailed information.
(Note 08/'17 – there seems to be a problem showing the balloons in de Android App. Google is working on it.)
Again a heck of a work, but .. check, it's done and….
in the mean while pretty simple. As is everything, if you do it multiple times.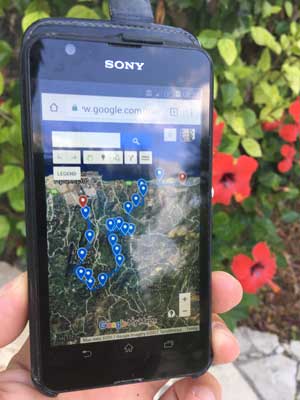 First reviews are in the pocket.
Three other things happened!
First of all we had our first (5!!!! Star ) reviews. They are posted on our Facebook page. As we learned that we are not allowed to mention our services on TripAdvisor. They don't allow (competitive) online services. So if you would like to write a review in the future on this platform you have to include it in e.g. your hotel or restaurant review. Just mention us, so others will get to know about us.
If you like to write a comment or review, please do that on
facebook.com/routaki.routes/reviews.
Thank you.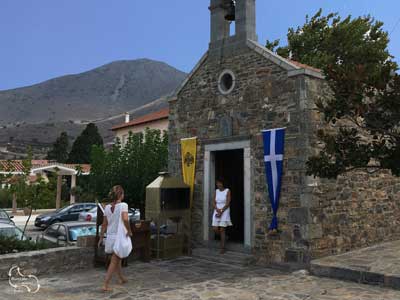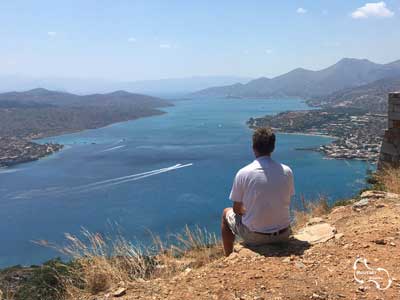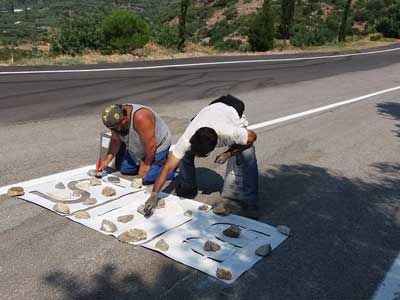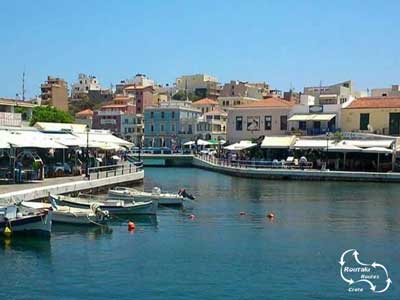 On my most recent day off, I was invited by some lovely French ladies to take them on a tour. We decided to go in the direction of Plaka (with a view on Spinalonga), Elounda and Agios Nicolaos.
We agreed that also some work would be done. So the two ladies where of help photographing the traffic signs for the new to create route 82. This route will probably go from Hersonissos towards the villages of Avdou, Gounies, Mochlos, Neapoli, Vrouchas and will end in Elounda. Points of interest that I already can mention are:
The former village of Sfendili, which is now under water because of the dam.
The gigantic tree in Krasi.
The picturesque square of Mochos.
The insane view over Stalida and Malia.
A tour  in the olive factory of Vassilakis Estate.
A visit to the Amazonas Wild life park.
Selfi-time with Spinalonga in the background.
The crystal clear waters of the Mirabello bay.
Sorry that you still have to wait a bit, but we can tell; an amazing road trip.
As this day off was on the 15th of August we also experienced one of the most important celebrations on Crete; the celebration of Virgin Mary (Panagia). We happened to be at the right moment in [ Neapoli ].  The church ceremonies were just finished and we witnessed the procession through town.
Our freelancer Julia wrote a nice article about this day on our Google + collection.

Last but not least my visualization 'board' in my room is getting more and more shape. 5 arrows will bring my ultimate goal. If you're interested click on the image for a bigger version.
Down below one of my favourite actors, talking about achieving your goals. Bravo Denzel!
Hope to 'see' you again next month.
Mr.Routaki